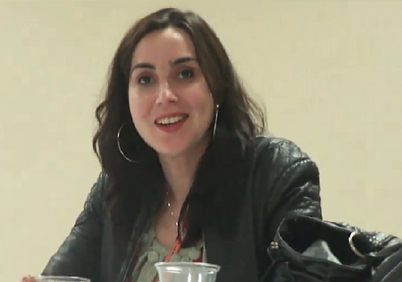 Lisa Ortiz is a veteran voice actress holding a BFA in theatre from Hofstra University. She began her career as the high elf Deedlit in Record of Lodoss War and since then she has gone on to record dozens of anime, series, audio books, video games, and films as well as eventually moving behind the microphone as a Producer, Director and Adapter.
She is known in the anime world for her works as Lina Inverse in Slayers (a role she reprises in Slayers Evolution), Amy in Sonic the Hedgehog and Serenity Wheeler in Yu-Gi-Oh. She has also appeared in a number of other anime including Pokemon, Revolutionary Girl Utena (Shiori), Magic Users Club (Nanaka), Animation Runner Kuromi (Kuromi), and One Piece (Tony Tony Chopper).
Her work has appeared in Film festivals as well as on television, and she can currently be heard as Oshawott in Pokemon Black and White and as Patina in Magical DoReMi.
As a voice double
In certain shows, Ortiz is a voice double of Tara Jayne, Sonny Day, Bella Hudson, and Kirsten Dunst.
Voice Roles