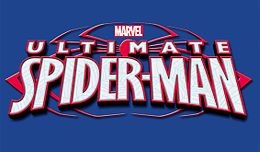 Ultimate Spider-Man is an upcoming American cartoon series based on the superhero character published by Marvel Comics and written by Brian Bendis, Paul Dini, and Man of Action (a group consisting of Steven T. Seagle, Joe Kelly, Joe Casey, and Duncan Rouleau. Based on the Ultimate Spider-Man comics, the series is slated to air on Disney XD in early 2012. The series will involve special guest appearances by other Marvel superheroes.
Synopsis
As the series begins, Peter Parker has been Spider-Man for just one year. He has saved lives and fought supervillains, but he is still in the process of learning how to be a superhero. Nick Fury of S.H.I.E.L.D. offers Peter the chance to train to be a real superhero and become "The Ultimate Spider-Man". However, beforehand Peter will have to learn how to work with a team of fellow teenage superheroes.
Cast
Crew
Production
Brian Michael Bendis and Paul Dini will be serving as writers and producers on the show. Man of Action (a group consisting of Steven T. Seagle, Joe Kelly, Joe Casey, and Duncan Rouleau), the creators of the animated series Ben 10 and Generator Rex, will be serving as supervising producers on the show. 26 episodes have been ordered for the first season. According to Paul Dini, this series will have a "redefined" Peter Parker. He further stated that the series will have Spider-Man guest-starring with different characters and will be partially be based on Bendis' comics while the rest will be original material. Actor J. K. Simmons has confirmed that he will reprise his role as J. Jonah Jameson from Sam Raimi's live-action Spider-Man film trilogy for the series. In an interview with the LA Times, actor Adrian Pasdar confirmed that he'd be voicing Iron Man in the series, the character in fact was voiced by him in Madhouse's and Marvel's Iron Man Anime. In an interview with MTV voice actor Kevin Michael Richardson announced that he'd be voicing Robbie Robertson and an unnamed member of the Wrecking Crew, in the series. At San Diego Comic Con 2011, it was confirmed that Spider-Man will team up with members of the Avengers, including Iron Man, The Wasp, Captain America, Hulk and Thor. At D23 Expo 2011, a new trailer for the series was released, showing off brief fight scenes with Electro, Venom and Doctor Doom. The design of the series is influenced by a number of comic book artists, including Stuart Immonen (who previously worked on the Ultimate Spider-Man comic), Humberto Ramos, Ed McGuinness and Joe Quesada.
Images